Blog
Posted by Rich on
Meet Some of The Last Jedi Characters!
Featuring the iconic 1977 Blue Starfield design on Heritage stock, the new 2017 Topps Star Wars: Journey to the Last Jedi trading card set takes you on a journey across the Star Wars saga with a sneak peek at Star Wars: The Last Jedi. New characters are introduced across six fun chase sets, including Darkness Rises (6), Illustrated Characters (14), Rey Continuity (5), Blueprints (7), Characters (16), and Retro Stickers (18). Base card parallels are available in Green, Black, Silver, White #/199, Orange #/50, Gold #/25 and Red 1/1. Special hits include autographs (with several numbered parallel versions), sketch cards, printing plates, and patch cards (with numbered parallels).
Here is a quick rundown of my break:
1/1 base card #34

1 1/1 Auto Daniel Logan
1 Printing Plate Auto Bulloch
6 #/10 Autos - including Haden Christensen and Gwendoline Christie
10 #/25 Autos
30 #/99 Autos and loads of base autos
24 of 38 base patch cards, plus a bunch of #/99 and #/25 parallels
2 BB-8 Shaped Sketches
27 Sketch Cards - shorted 3 sketches based on the odds
Several Green, Black and Silver Parallel Sets
Lots of Orange and Gold Parallels

Here are the highlights. Enjoy the pics!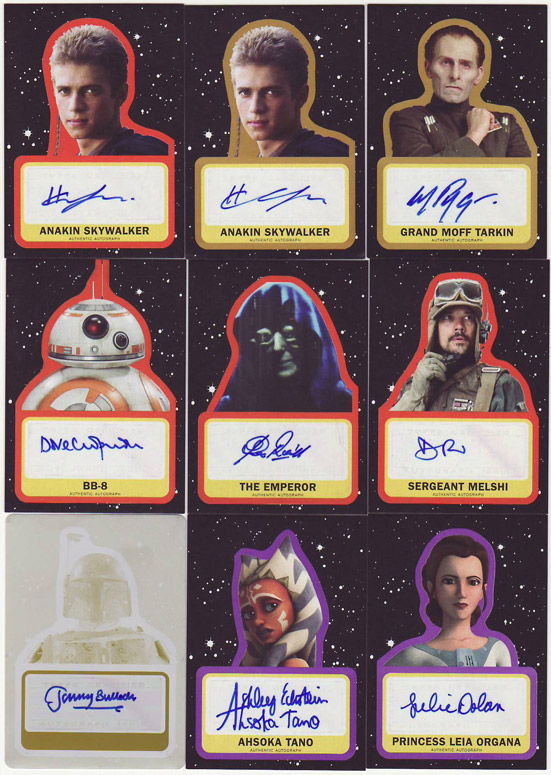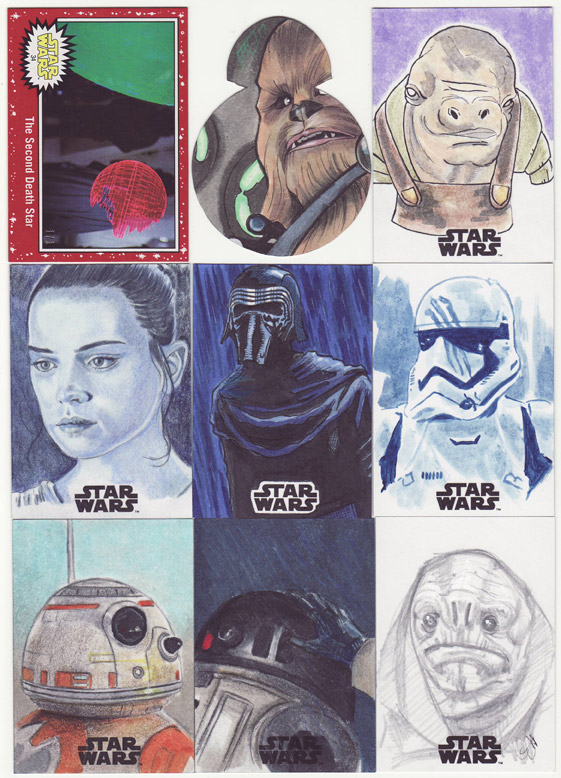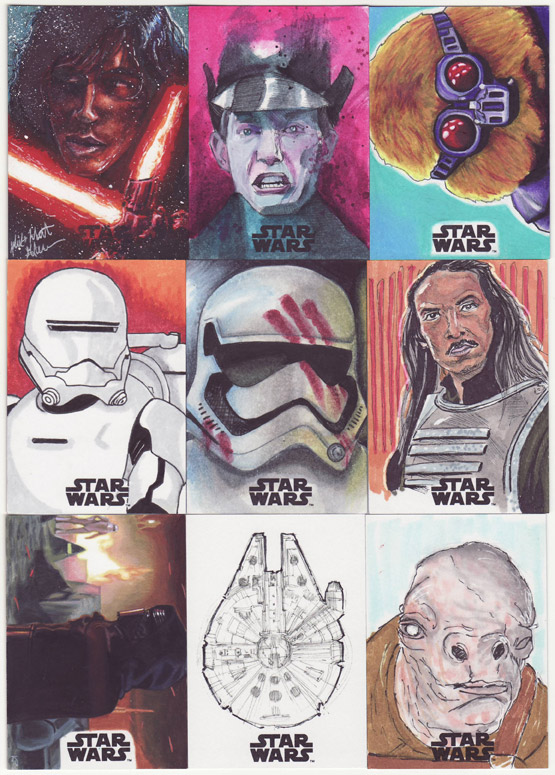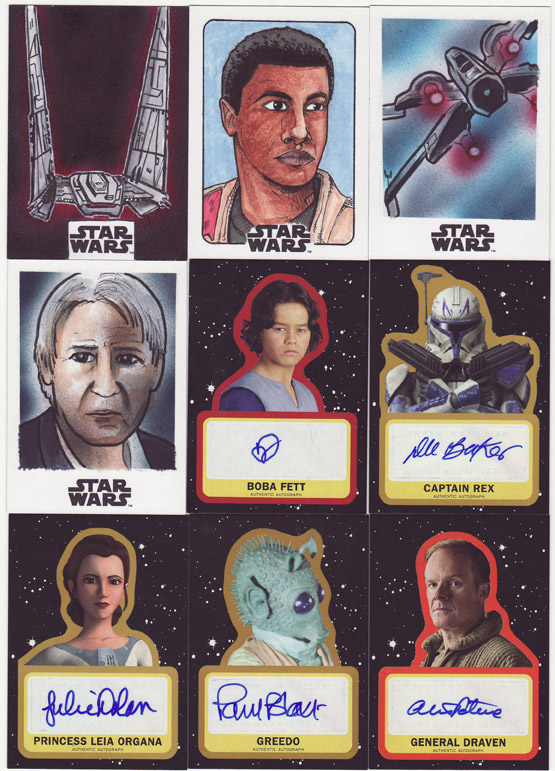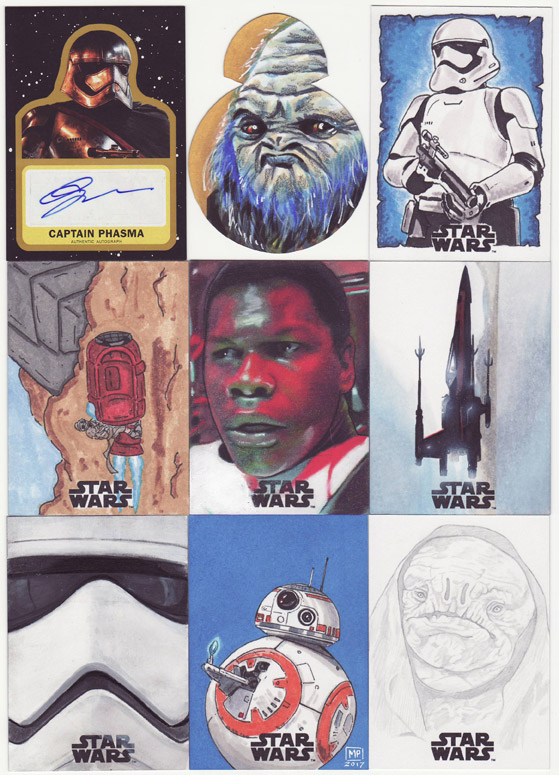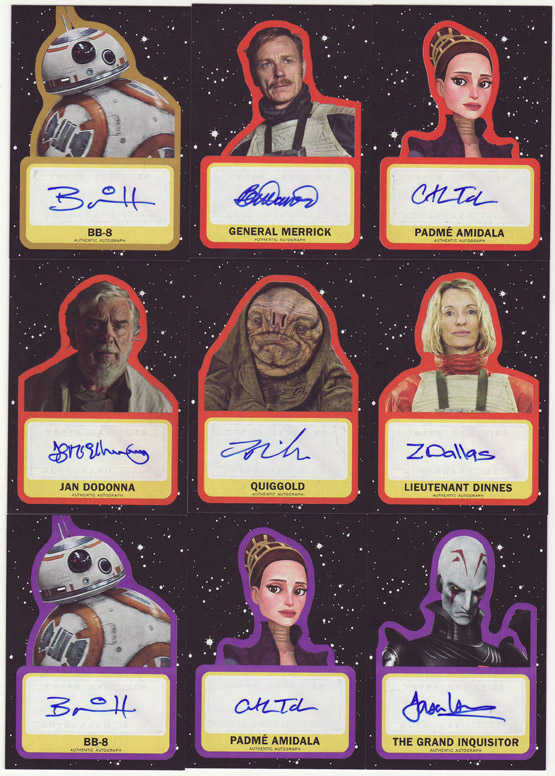 As usual everything is for sale, thanks!
Cryptozoic Introduces New Parallel Autographs and Base CardsThe new 2016 Cryptozoic Walking Dead Season 4 Part 1 72 card set chronicles Rick and his fellow survivors' struggle to maintain their idealistic lifestyle in the prison in the face of threats within and outside the premises, including the reappearance of the Governor. Season four introduces the notable characters Lizzie and Mika Samuels [...]
Topps Revives an Iconic Brand with an All-New Design and ConfigurationThe new 2016 Topps Star Wars Evolution set tells the stories of the most important Star Wars characters and explains how they evolved over time. The series includes a 100-card base set, plus five chase sets: Ships & Vehicles (18), Comics (17), Lightsaber (9), Stained Glass Style Pairings (9), [...]
May the Inspiration Be With You!As many of you know, I am on the board of Rancho Obi-Wan, a private nonprofit museum housing the world's largest collection of Star Wars memorabilia. But not many of you know why I believe so strongly in this organization.Sure, I'm a huge fan. But what makes Star Wars truly special to me [...]
Road to Rogue One Cards Scheduled for October 2016! Topps Star Wars Road To Rogue One™ will explain how The Death Star was created and ultimately destroyed by The Rebel Alliance and gives fans a preview of the new film! This set will feature: 110 Base Story cards on Topps Heritage stockBase card parallels: Death Star (1 per [...]
Another Force Awakens Series 2 Break, Another Huge Hit!I couldn't resist the chance to break more of the latest Topps Star Wars TFA Series 2. Here are pics from another case and a third. Absolutely phenomenal!
New Series Featuring Autographs from Alien Cast Members!It's been a while since I've cracked an Upper Deck title, but I couldn't resist an Alien retrospective set that looks back at all the Alien films, especially a limited release that features autographs from Alien film cast members like Sigourney Weaver, Tom Skerritt, Lance Hendriksen, Bill Paxton, [...]
Pics from Star Wars TFA Series 2 Multi-Case Break! Now that I have finally caught up on my Star Wars TFA Series 2 orders, I thought it would be fun to post images of the hits (autographs, sketches, printing plates, and medallions) from my multi-case break. This was a really fun product to crack, and [...]
Thank You Silicon Valley Comic Con!As many of you know, I am on the board of Rancho Obi-Wan, a non-profit museum whose mission is to inspire creativity by providing exhibitions and educational programs with the world's largest collection of Star Wars memorabilia. We were thrilled to be a part of the inaugural Silicon Valley Comic Con, which [...]
Exciting Updates on the Topps Doctor Who Timeless Set I just received some exciting info from the product team at Topps about the upcoming Doctor Who Timeless cards, set to be released in June: Topps Doctor Who Timeless will take you on an adventure across space and time! 100 base cards capture The Doctor's greatest time-traveling adventures across the 50+ years of [...]